Cross Country Skiing
Go Cross Country Skiing for a great cardio workout! We are home to Western New York's largest cross country ski trails, the Art Roscoe Ski Trails. We have trails for all levels of skiiers, beginners or advanced. If you're new to XC skiing, learn and practice in the woods on groomed trails of the Art Roscoe Traily System at Allegany State Park (rent a cabin right there!). If you're an experienced cross country skiier, try the back country trails at Holiday Valley Resort.
Try out some of our best available places to cross country ski, or make your own path through our beautiful landscapes and rolling hills. Popular opinion is that the Art Roscoe Trails at Allegany State Park are the best!
Art Roscoe Cross Country Ski Trails at Allegany State Park
Allegany State Park offers some of the top cross country skiing accomodations around. One of the most well known trails within the park is the Art Roscoe Cross Country Ski and Mountain Biking Area. Offering over 18 miles of groomed trails for both cross country skiing and skating, the trails, themselves, range from beginner all the way to advanced. So, regardless of your experience, there's a trail for you!
These trails are named after Arthur J. Roscoe who mapped out early logging trails for this sport. The wide scope of trails invites beginners and advanced XC skiers alike. Don't have your own cross country skis? You can rent them at the Summit Warming Hut right across the street! Call 716-354-9163.
Along with the 18 miles of groomed trails, there's also over 25 miles of backcountry trails. Come check it out for yourself!
Cross Country Skiing Rentals at Allegany State Park
Daily Rates for Adults & Children (Driver's License is required for deposit)
$19.75 Skis, boots & poles
$10.75 Skis only
$7.75 Boots only
$4.75 Poles only
Cross Country Skiing at Holiday Valley
For even more miles of adventure, visit the cross country skiing trails at Holiday Valley and NYS Public Lands. Here, you can either go high by cruising ridgelines at the top of Holiday Valley or go low by circling the areas around the golf course for some spectacular views.
If that's not enough, Holiday Valley Resort offers miles of trails through the mountains and the backcountry of the resort along the tracks made by snowmobiles.
For complete information on pricing and cross country skiing options, check out Holiday Valley's Cross Country Skiing page.
XC Ski Rentals at Holiday Valley Resort
Cross country ski rentals at Holiday Valley Resort are available. Visit HV's Rental Equipment page for pricing
Upcoming Cross Country Ski Race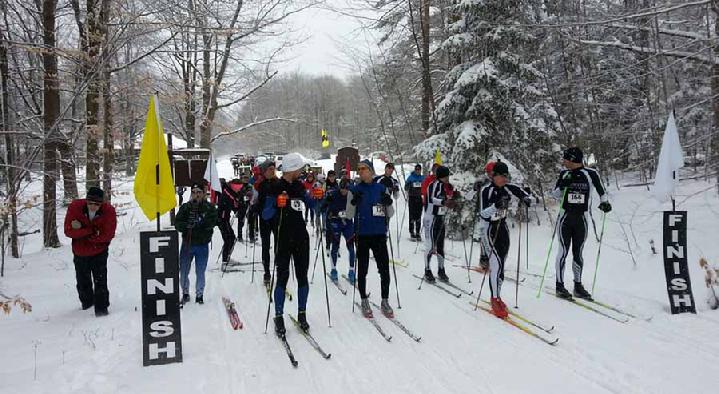 Art Roscoe Loppet is a Classic XC Ski Race (6K, 12K, 22K) at Allegany State Park every February.
Art Roscoe Trail News
Check out the latest news on the cross-country trails at AlleganyNordic.org.
Cross Country Skiing Questions
Do you have questions about Cross Country Skiing? Contact us with 'em and we'll do our best to help you plan your trip.
The Enchanted Mountains offer some of the best cross country skiing options in the entire region. With seemingly endless trails and some entertaining stops and scenic views along the way, Cattaraugus County is a haven for all your winter activity desires.